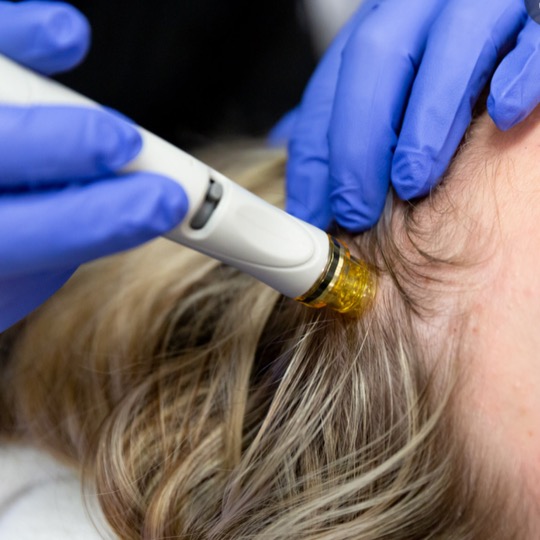 Hydrafacial Keravive Treatment in Holladay, UT
What is a Keravive Hair Restoration/Scalp Health Treatment?
From the makers of Hydrafacial, Keravive Scalp Health Treatments are designed to cleanse, stimulate, nourish, and hydrate the scalp for fuller and healthier-looking hair, like a facial for the scalp! Poor scalp health can be a major contributor to damaged, thinning hair and stunt the growth of healthy hair.
How does it work?
Keravive Hair Restoration/Scalp Health Treatments work to improve the overall health of your scalp and hair follicles in 3 simple steps:
Step 1: Cleanse & Exfoliate
HydraFacial Vortex Technology extracts dirt, oil, and impurities from the scalp and hair follicles while stimulating circulation.
Step 2: Stimulate & Nourish
HydraFacial Keravive Scalp Health Solution delivers a proprietary blend of growth factors and skin proteins to stimulate a healthy scalp.
Step 3: Extend & Enhance
Daily use of the HydraFacial Scalp Health Spray enhances the benefits of the in-office treatment and delivers daily stimulation and nourishment to your scalp and hair follicle through biomimetic growth factors.
Who is a good candidate for Keravive Hair Restoration/Scalp Health Treatments?
Keravive Hair Restoration/Scalp Health Treatments are perfect for people who are experiencing hair thinning or loss, scalp flaking, itchiness, dryness, or irritation. Anyone interested in improving the overall health of their scalp and hair can benefit from this treatment!
How many treatments are recommended?
For best results, it is recommended that patients have the Keravive Hair Restoration/Scalp Health in-office treatment once every 4-6 weeks for three consecutive months, along with continued use of the at-home spray. A maintenance in-office treatment every 3-6 months is also encouraged.
The Modern Experience:
The treatment is pain-free, gentle and relaxing. You will feel some suction on your scalp and a cooling sensation from the solutions that are administered during the treatment. It takes 45-60 minutes to complete the treatment. You will be sent home with a Hydrafacial Keravivie spray bottle to apply daily to your scalp. This contains biomimetic growth factors to continue to help your follicles grow.
Pricing?
Keravive Scalp Health treatments starts at $399! We recommend starting with a series of 3 spaced 4-6 weeks apart.